PENGARUH VARIASI ASAM SULFOSUKSINAT SEBAGAI (ROSSLINKER) PADA POLIMER KOMPOSIT KITOSANMONTMORILONITE/ASAM SULFOSUKSINATE (CS-MMT/ASS)
CS-MMT/ASS
Eko Malis

Rosyid Ridho

Qurrata Ayun

universitas PGRI Banyuwangi

Heppy Findari
Keywords:
komposit, crosslinker, filler, ion exchange Capacity, nukleofil, membran
Abstract
Pembuatan membrane komposit kitosan-Montmorilonite/Asam sulfosuksinat (CS-MMT/ASS), Dimana kitosan sebagai matriks, asam sulfosuksinat sebagai agen penaut silang (crosslinker) dan montmorillonite sebagai filler. Penelitian ini dilakukan untuk mengetahui seberapa besar pengaruh penambahan asam sulfosuksinate dan montmorillonite terhadap kinerja dan karakteristik membrane. Yang meliputi ion exchange capasity, konduktivitas proton, serta permeabilitas membrane. Dengan konsentrasi montmorillonite ,1,2,3,4,5% dan variasi konsentrasi asam sulfosuksinate 10%, 11%, 12%, dan 13,14%.
Membran komposit dapat bertahan pada suhu 78 oC dengan konsentrasi MMA 3% ( penambahan MMA dapat meningkatkan stabilitas thermal).  Penambahan ASS 12 % adalah komposisi terbaik. Asam sulfosuksinat secara signifikan dapat meningkatkan konduktivitas proton pada variasi 12 %.karena adanya gugus -SO3. Gugus -OH dari asam sulfosuksinat membentuk Ikatan hydrogen dengan gugus -NH2 dari kitosan yang menyebabkan peningkatan electron transport. Persentase Penambahan crosslinker  ASS terlalu banyak meningkatkan jumlah micropore sehingga menurunkan kemampuan water uptake dan methanol uptake membrane komposit yang dibuat.
References
References
Ariyaskul, A., Huang, R., & Douglas, P. (2006). Blended Chitosan and Polyvinyl alcohol Membranes for The Pervaporation Dehydration of Isopropanol. Journal of Membrane Science, 280, 815-823.
Czubenko, J., & Pieróg, M. (2010). State of Water in Citrate Crosslinked Chitosan Membrane . Polymers, XV.


Fu T, Cui Z, Zhong S, Shi Y, Zhao C, Zhang G, Shao K, Na H, Xing W, (2008),
"Sulfonated poly (ether ether ketone)/clay–SO3H hybrid proton exchange
membranes for direct methanol fuel cells", J. Power Sources, Vol. 185,
hal. 32–39.
Handayani, S. (2008), Membran ElektrSolit Berbasis Polieter-Eter Keton Tersulfonasi Untuk Direct Methanol Fuel Cell Suhu Tinggi, Disertasi, Universitas Indonesia, Depok.

Khan, T. A., Peh, K. K. and Ch'ng, H. S. (2002) 'Reporting degree of deacetylation values of chitosan: The influence of analytical methods', Journal of Pharmacy and Pharmaceutical Sciences, 5(3), pp. 205–212
Li YS, Zhao TS &Yang WW, (2010), "Measurements of Water Uptake and Transport Properties in Anion-Exchange Membranes", International Journal of Hydrogen Energy, Vol. 35, hal. 656-5665.
Nesic, A. R., S. J. Velickovic, & D. G. Antonovic. 2012. Characterization of
Chitosan/montmorillonite Membranes as Adsorbents for Bezactiv Orange V-3R dye. Journal of Hazardous Materials, 209-210: 256-263
Palani, P., Abidin, K., Kannan, R., Sivakumar, M., & Wang, F. (2014). Improvement of Proton Conductivity Nanocomposite Polyvinyl alcohol (PVA)/Chitosan (CS) Blend Membranes. RSC Advances.
Xiong, Y., Fang, J., Zeng, H., & Liu, L. (2008). Preparation and Characterization of Cross-linked Quaternized Poly(vinyl alcohol) Membranes for Anion Exchange Membrane Fuel Cells. Membrane Science, 319- 325.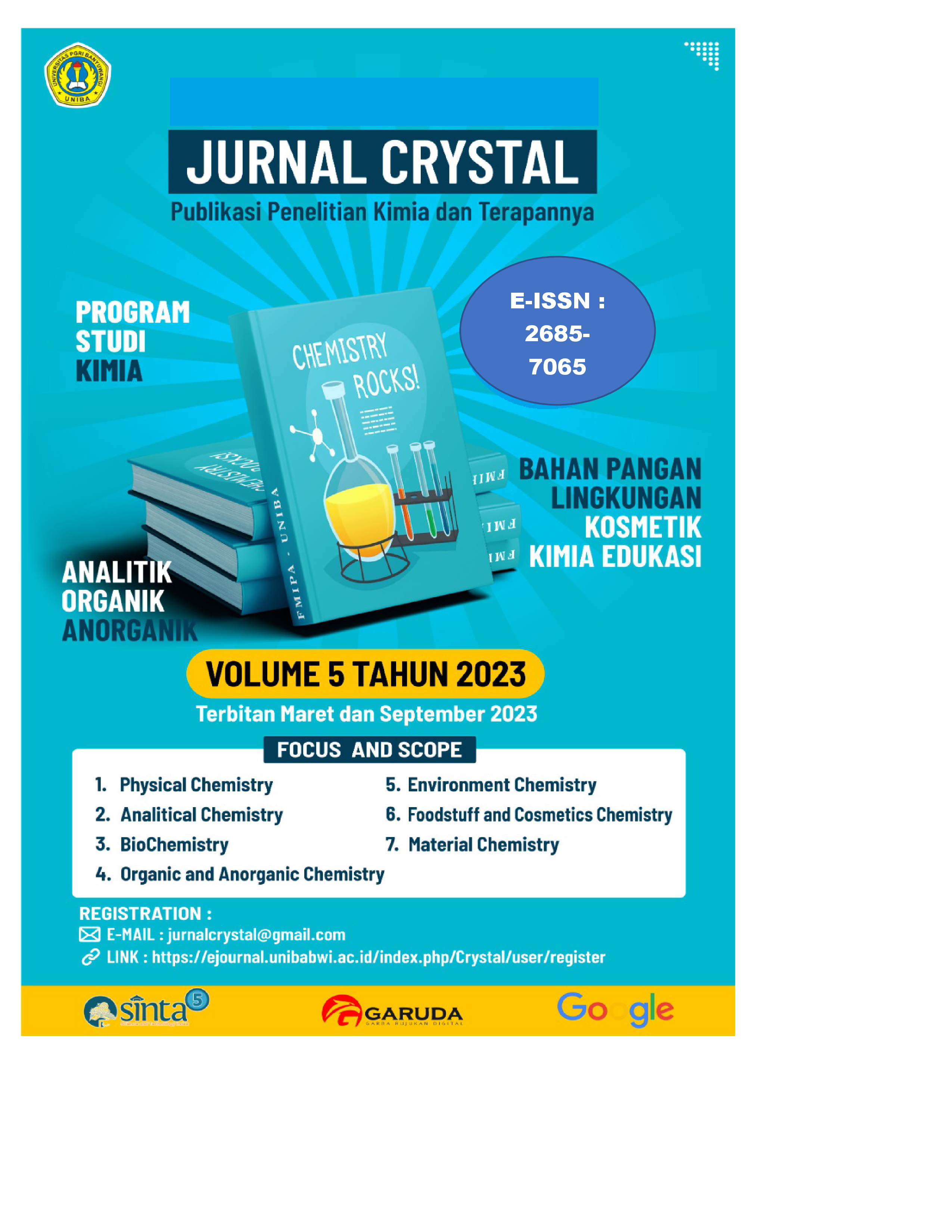 How to Cite
MalisE., RidhoR., AyunQ., & FindariH. (2023). PENGARUH VARIASI ASAM SULFOSUKSINAT SEBAGAI (ROSSLINKER) PADA POLIMER KOMPOSIT KITOSANMONTMORILONITE/ASAM SULFOSUKSINATE (CS-MMT/ASS): CS-MMT/ASS. Jurnal Crystal : Publikasi Penelitian Kimia Dan Terapannya, 5(1), 44 - 53. https://doi.org/10.36526/jc.v5i1.2614