OPTIMASI PEMBUATAN EDIBLE COATING DARI WHEY PROTEIN DAN KITOSAN
Qurrata Ayun

Prodi Kimia Fakultas Matematika dan Ilmu Pengetahuan Alam, Universitas PGRI Banyuwangi
Keywords:
Edible Coating, Kitosan, Fillet Ikan
Abstract
Edible coating adalah lapisan tipis yang dibuat dari bahan yang dapat dimakan. Komponen utama penyusun edible coating dapat dikelompokkan menjadi tiga kategori, yaitu hidrokoloid, lipid, dan komposit. Hidrokoloid yang dapat digunakan untuk membuat edible coating adalah protein (gelatin, kasein, protein kedelai, protein jagung, dan gluten gandum) dan polisakarida (pati, alginat, pektin, gum arab, dan modifikasi karbohidrat lainnya). Lipida yang dapat digunakan adalah lilin, bees wax, gliserol, dan asam lemak. Protein whey merupakan protein globular dimana kebanyakan gugus hidrofobik dan sulfidrilnya berada di dalam struktur protein. Indonesia yang merupakan negara maritim, dimana wilayahnya sebagian besar berupa perairan. Hasil tangkapan ikan yang didapatkan juga melimpah, dengan adanya hal ini, peneliti melakukan riset bagaimana caranya agar ikan yang disimpan dapat bertahan lama dengan menggunakan pembungkus yang aman yaitu edible coating. Sehingga diharapkan paduan edible coating yang terbuat dari whey protein dan kitosan (menghalangi oksigen masuk dengan baik) kulit udang mampu menjadi pengemas makanan alami yang memiliki kualitas baik yang mampu memperpanjang umur simpan makanan, baik berupa bahan makanan mentah (segar) maupun makanan siap saji. Penelitian ini dilakukan dengan melakukan analisis FTIR terlebih dahulu, kemudian mencari massa whey protein maksimum, massa kitosan dan gliserin yang optimum. Dari semua perlakuan yang telah dilakukan, diperoleh massa whey protein yang maksimum adalah 6 g, kitosan 0,6 g dan gliserin 3 g
References
Danhowe & f., 1994. Edible Film and Coating
: Characteristics, Formation, definition and Testing Methods. lancester. USA: Technomic Publ., Inc.
Gillieta, G., Di Giola, L., Guilbert, L. & Cuq, B., 1998. Mechanical and Thermomechanical Properties of Film Based on Whey protein as Affected by Plasticizer and Crosslinking Agents.
Journal of Dairy Science , Volume 81, pp. 3123-3130.
Helander, E. et al., 2001. Chitosan Disrupts The Barrier Properties of The Outer Membrane of Gram-Negative Bacteria. International Journal of Food Microbiology, p. 235–244..
Henriette, M., Azeredo, De Britto, D. & Assis, 2010. Chitosan Edible Films and Coating – Review, Embrapa Tropical Agroindustry. Fortaleza, CE, Brazil, ISBN 978-1-61728-831-9..
Kofuji, K., Qian CJ, Murata Y & Kawashima, 2005. Preparation of chitosan microparticles by water-in-vegetable oil emulsion coalescence technique. Journal of Reactive and Functional Polymers, pp. 77-83.
Krochta, J. M., Baldwin & Nisperos, C., 1994.
Edible coating and Film to Improve Food Quality. New York, NY: Technomic Publishing Company.
Perez, G., N. & K., 1999. Water Vapor Permeability, Solubility, and Tensile Properties of Heat-denatured versus Native Whey protein Films. Journal of Food Science Volume , Volume 64, pp. 1034-1037.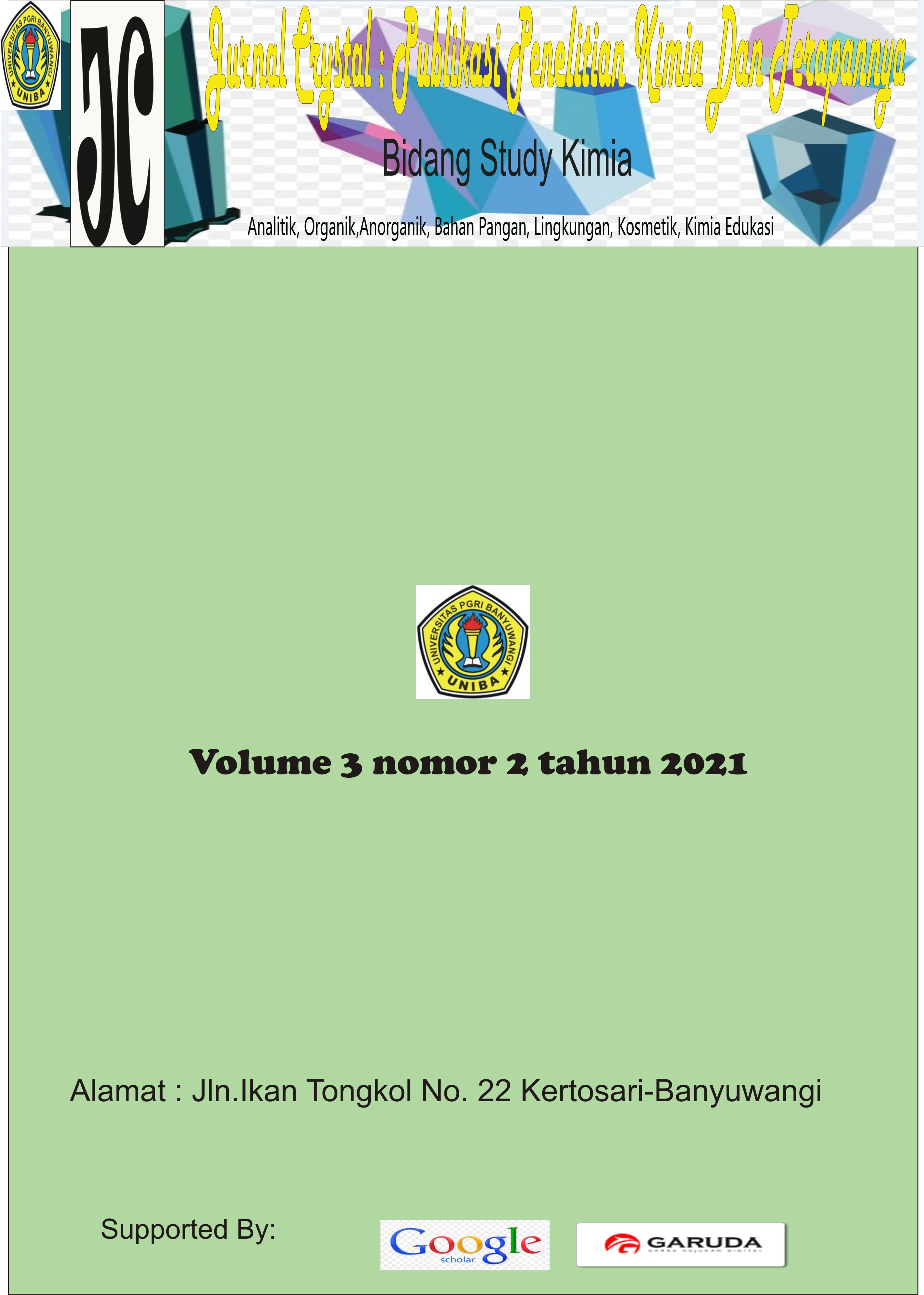 How to Cite
Qurrata Ayun. (2021). OPTIMASI PEMBUATAN EDIBLE COATING DARI WHEY PROTEIN DAN KITOSAN. Jurnal Crystal : Publikasi Penelitian Kimia Dan Terapannya, 3(2), 14-17. https://doi.org/10.36526/jc.v3i2.1807