POTENSI ANTIBAKTERI EKSTRAK DAUN UBI JALAR UNGU (Ipomea batatas L.) TERHADAP BAKTERI GRAM NEGATIF DENGAN METODE BROTH MICRODILUTION
Siti Hamidatul Aliyah

Sekolah Tinggi Ilmu Kesehatan Harapan Ibu Jambi
Keywords:
Ipomea batatas, broth microdilution, Salmonella, Pseudomonas aeruginosa, antibacterial, MIC, MBC
Abstract
Abstract
Indonesia has wide cultivation of purple sweet potatoes (Ipomea batatas L.) commodities, particularly in Jambi province. However, the difference of phytochemical profiles in purple sweet potatoes among geographical regions has not been fully explored. The objective of this research to find out antibacterial activity of ethanol extract leaves purple sweet potato against bacteria Salmonella sp. and Pseudomonas aeruginosa. This study used Broth microdilution with concentration of 2 mg/mL, 4μg/mL, 8 mg/mL, 16 mg/mL, 32 mg/mL, 64 mg/mL, 128 mg/mL, 256 mg/mL, 512 ug/mL,1024 mg/mL. Chloramphenicol used as a positive control at the same concentration, minimum inhibitory concentration (MIC) determination made by the 50 seen from the transmittance value the test bacteria and minimum bactericidal concentration (MBC) by the determination of the lowest concentration in which no visible bacterial growth. Based on the test microbroth dilution leaves purple sweet potatoes had antibacterial activity against Salmonella sp. and Pseudomonas aeruginosa with MIC 64 mg/mL in Salmonella sp. and 128 ug/mL Pseudomonas aeruginosa. KBM obtained 512 mg/mL in Salmonella sp. and 512 ug/mL Pseudomonas aeruginosa.
References
Brook, G. F., Carroll, K. C., Butel, J. S., Morse, S. A., & Mietzner, T. A. (2015). Mikrobiologi Kedokteran : Jawetz, Melnick, & Adelberg. In 27th ed.
Cockerill, F. R., Wikler, M. A., Alder, J., Dudley, M. N., Eliopoulos, G. M., Ferraro, M. J., Hardy, D. J., Hecht, D. W., Hindler, J. A., Patel, J. B., Powell, M., Swenson, J. M., Thomson, R. B., Traczewski, M. M., Turnbrighe, J. D., Weinstein, M. P., & Zimmer, B. L. (2012). Methods for Dilution Antimicrobial Susceptibility Tests for Bacteria That Grow Aerobically. In M07-a9 (Vol. 32, Issue 2).
Darwis, welly, Melati, P., Widiyati, E., & Supriati, R. (2009). Efektivitas Ekstrak Daun Ubi Jalar Merah (Ipomoea batatas Poir) Terhadap Bakteri Staphylococcus Aureus Penyebab Penyakit Bisul Pada Manusia. Jurnal Ilimiah Konservasi Hayati, 5(2).
Heriwijaya, I. P. P. D., Jawi, I. M., & Satriyasa, B. K. (2020). Uji efektivitas ekstrak air daun ubi jalar ungu (Ipomoea batatas) terhadap profil lipid tikus putih jantan galur wistar yang diinduksi pakan dislipidemia. Intisari Sains Medis, 11(2). https://doi.org/10.15562/ism.v11i2.584
Islam, S. (2008). Antimicrobial activities of Ipomoea batatas (L.) leaf. Journal of Food, Agriculture and Environment, 6(1), 14–17.
Kaya, E. G., Özbİlge, H., & Albayrak, S. (2009). Determination of the effect of Gentamicin against Staphylococcus aureus by using microbroth kinetic system. Ankem Dernegi (Antibiyotik ve Kemoterapi Dernegi - Association of Antibiotics and Chemotherapy, Turkish), 23(3).
Lolongan, R. A., Waworuntu, O., & Mintjelungan, C. N. (2016). Uji konsentrasi hambat minimum (KHM) ekstrak daun pacar air (Impatiens balsamina L.) terhadap pertumbuhan Streptococcus mutans. E-GIGI, 4(2). https://doi.org/10.35790/eg.4.2.2016.14161
Meri Rahmawati. (2015). Uji Aktivitas Antimikroba Ekstrak Etanol dan Air Rimpang Pacing (Costus spiralis) Terhadap Bakteri Escherichia coli, Shigella dysenteriae, Salmonella typhimurium, Bacillus subtilis, Staphylococcus aureus Serta Fungi Candida albicans. Skripsi.
Miranti, M., Prasetyorini, & Suwary, C. (2013). PERBANDINGAN AKTIVITAS ANTIBAKTERI EKSTRAK ETANOL 30% dan 96% KELOPAK BUNGA ROSELLA (Hibiscus sabdariffaL)TERHADAP BAKTERI Staphylococcus aureus. Ekologia, 13(1).
Mojab, F., Kamalinejad, M., Ghaderi, N., & Vahidipour, H. R. (2003). Phytochemical screening of some species of iranian plants. Iranian Journal of Pharmaceutical Research, 2(2). https://doi.org/10.22037/ijpr.2010.16
Padmasari, P. D., Astuti, K. W., & Warditiani, N. K. (2013). Skrining Fitokimia Ekstrak Etanol 70% Rimpang Bangle (Zingiber purpureum Roxb.). Journal, 366.
Pelczar Jr, Michael J, Chan, E. C. S. (2009). Dasar-Dasar Mikrobiologi 2. In Journal of Minimally Invasive Gynecology.
Putri, A. A., Rasyid, R., & Rahmatini, R. (2014). Perbedaan Sensitivitas Kuman Pseudomonas Aeruginosa Penyebab Infeksi Nosokomial Terhadap Beberapa Antibiotika Generik dan Paten. Jurnal Kesehatan Andalas, 3(3). https://doi.org/10.25077/jka.v3i3.112
Rahmawati, F., & Bintari, S. H. (2014). Studi Aktivitas Antibakteri Sari Daun Binahong (Anredera cordifolia) Terhadap Pertumbuhan Bacillus cereus Dan Salmonella enteritidis. Life Science, 3(2), 103–111.
Retno Nur Santi, Muhtadi*, P. I. (2011). Aktivitas Antibakteri Ekstrak Etanol Kulit Dan Biji Kelengkeng (Euphoria longan (Lour.) Steud) Terhadap Escherichia coli Dan Staphylococcus aureus Serta Toksisitasnya Terhadap Artemia salina Leach. Pharmaceutical Journal of Indonesia, 12(1), 33–39.
Rijayanti, R. P. (2014). Uji Aktivitas Antibakteri Ekstrak Etanol Daun Mangga Bacang (Mangifera foetida L) Terhadap Staphylococcus aureus Secara In Vitro. Jurnal Mahasiswa PSPD FK Universitas Tanjungpur, 1(1).
Saati, E. A., Dyah Pusparini, A., Wachid, M., & Winarsih, S. (2018). The anthocyanin pigment extract from red rose as antibacterial agent. Malaysian Journal of Fundamental and Applied Sciences, 14(1–2), 184–187. https://doi.org/10.11113/mjfas.v14n1-2.959
Turahman, T. (2019). Aktivitas Antibakteri Ekstrak Dan Fraksi Herba Kemangi (Ocimum Sanctum L) Terhadap Staphylococcus Aureus Dan Pseudomonas Aeruginosa. Jurnal Farmasi Indonesia, 16(2). https://doi.org/10.31001/jfi.v16i2.596
Zahro, L., & Agustini, R. (2013). UJI EFEKTIVITAS ANTIBAKTERI EKSTRAK KASAR SAPONIN JAMUR TIRAM PUTIH (Pleurotus ostreatus) TERHADAP Staphylococcus aureus dan Escherichia coli. UNESA Journal of Chemistry, 2(3).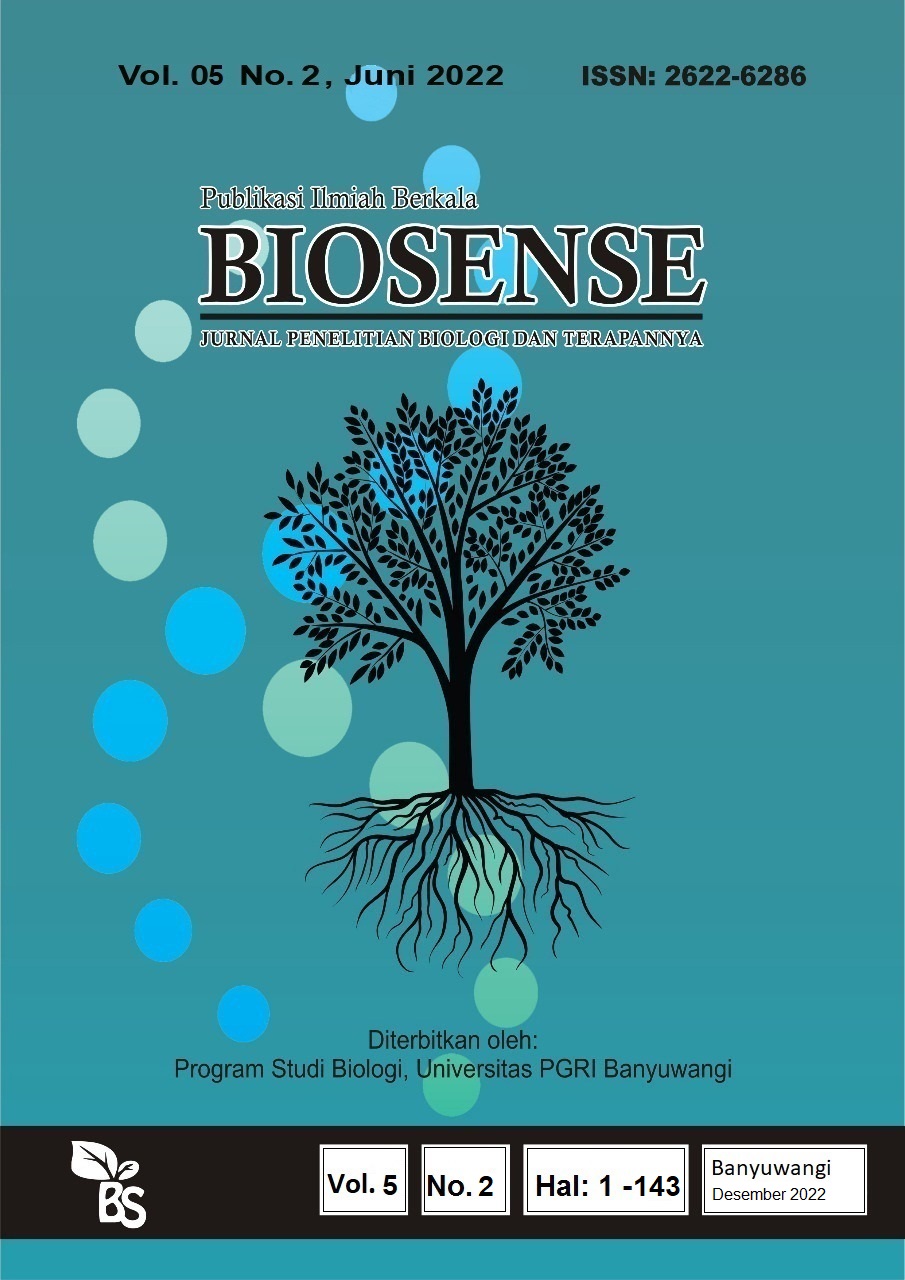 How to Cite
AliyahS. H. (2022). POTENSI ANTIBAKTERI EKSTRAK DAUN UBI JALAR UNGU (Ipomea batatas L.) TERHADAP BAKTERI GRAM NEGATIF DENGAN METODE BROTH MICRODILUTION. JURNAL BIOSENSE, 5(2), 121 - 130. https://doi.org/10.36526/biosense.v5i2.2333