EVALUASI PREFERENSI PAKAN GAJAH SUMATERA (ELEPHAS MAXIMUS SUMATRANUS) DI PUSAT LATIHAN GAJAH HOLIDAY RESORT AEK RASO SUMATERA UTARA
EVALUASI PREFERENSI PAKAN GAJAH SUMATERA (ELEPHAS MAXIMUS SUMATRANUS) DI PUSAT LATIHAN GAJAH HOLIDAY RESORT AEK RASO SUMATERA UTARA
Ali Makmur

Jurusan Kehutanan PSDKU Fakultas Pertanian Universitas Syiah Kuala, Gayo Lues

Erdiansyah Rahmi

Fakultas Kedokteran Hewan Universitas Syiah Kuala, Banda Aceh

Suci Indah Sari

Jurusan Kehutanan PSDKU Fakultas Pertanian Universitas Syiah Kuala, Gayo Lues

Fita Ridhana

Prodi Peternakan Fakultas Pertanian Universitas Gajah Putih, Takengon
Keywords:
Preferensi; Pakan; Gajah Sumatera, Preference; Feed; Sumatran Elephant
Abstract
ABSTRAK. Gajah sumatera merupakan satwa dilindungi yang populasinya semangkin menurun dan termasuk kedalam kategori keritis (Critically and dangered/ CR). Penelitian ini bertujuan mengetahui preferensi dan jenis pakan gajah sumatera (Elephas maximus sumatranus) yang terdapat di Pusat Latihan Gajah Holiday Resort Kecamatan Torgamba, Kabupatan Labuhan Batu Sumatera Utara. Metode penelitian ini menggunakan Focal Animal Sampling secara intensif dan mencatat seluruh aktifitas yang berkaitan dengan proses prilaku makan individu tersebut dimulai dari pukul 09.00-16.00 WIB. Pengambilan data dilakukan pada bulan Maret sampai bulan April 2022. Analisis yang digunakan terkait preferensi jenis pakan pada gajah sumatera. Hasil penelitian menunjukkan jenis tumbuhan yang terdapat di pusat latihan gajah holiday resort dari tiga lokasi yang berbeda di peroleh 17 jenis pakan alami dari 8 famili. Terdapat 3 ekor gajah yaitu: 1 Jantan dan 2 Betina. Preferensi pada betina jenis pakan Imperata cylindrical sebanyak 1050 kali dimakan atau 19,69%, jantan pakan Lophatherum gracile sebanyak 1020 kali konsumsi atau 17%.
ABSTRACT. The Sumatran elephant is a protected animal whose population is decreasing and is included in the critically and dangered (CR) category. This study aims to determine the preferences and types of feed for Sumatran elephants (Elephas maximus sumatranus) at the Elephant Holiday Resort Training Center, Torgamba District, Labuhan Batu Regency, North Sumatra. This research method uses Focal Animal Sampling intensively and records all activities related to the individual's eating behavior process starting from 09.00-16.00 WIB. Data collection was carried out from March to April 2022. The analysis used was related to the type of feed preference for Sumatran elephants. The results showed that the types of plants found in the elephant holiday resort training center from three different locations obtained 17 types of natural food from 8 families. There are 3 elephants, namely: 1 male and 2 female. The preference for Imperata cylindrical feed was 1050 times or 19.69%, male Lophatherum gracile consumed 1020 times or 17%.
References
Abdullah, Dahlian dan Mukhlisin. 2006. Preferensi Makan Gajah Sumatera (Elephas Maximus Sumatranus) di Kawasan Hutan Cagar Alam Jantho, Jurnal Biologi Edukasi. 1 (2) : 65-71.

Abdullah., Japisan dan Asiah, T. 2005. Karateristik Habitat Gajah Sumatera (Elephas maximus sumatranus) di kawasan ekosistem seulawan kabupaten Aceh besar Jurnal IImiah Pendidikan Biologi. Jurnal Biologi. 1(1) :41-45.

Aden, M. 2011. "Morfologi tanaman kelapa (Cocos nucifera)"; volume 9 Nomor 1, hal 30-38

Alikodra, HS. 1990. Pengelolaan Satwa Liar. Departemen pendidikan dan kebudayaan direktorat jendral pendidikan tinggi pusat antar Universitas Ilmu Hayati. Institut Pertanian Bogor.

Berliani. K., Alikodra, H.S., Mas'ud, B. dan Kusrini, M.D. 2017. Bioekologi Gajah Sumatera (Elephas maximus sumatranus) pada konflik gajah-manusia di Provinsi Aceh. Prosiding Seminar Nasional Biotik. 4(1). 7378

CITES, 2013. (Convention on International Trade of Endangered Fauna and Flora). Appendix I,II,III.

Gopala, A., Hadian, O.,Sunarto, Sitompul, A.,Williams, A., Leimgruber, P., Chambliss, S.E.& Gunaryadi, D. 2011. Elephas maximus ssp. Sumatranus The IUCN Red List of Threatened Spesies 2011.

Inka , A, Muhammad Radhi. 2019. Perilaku satwa liar pada kelas mamalia. Aceh : Fakultas Pertanian Universitas Almuslim.

Payne, J.,C.M. Fancis., K. Phillipps., dan Kartikasari. 2000. Mamalia di Kalimantan, sabah,Sarawak, dan Brunei Darussalam. The Sabah Society Malaysia. Jakarta Vol. 18,2 Agustus 2013: 89-95

Phuangkum, P., Lair, R.C., &Angkawanith, T. 2005. Elephat Care Manual For Mahouts and Cam Managers. Bangko:FAO & FIO

Rahmadani, A., Dahlan, Z. dan Yustian, I. 2018. Daya Dukung Pakan Gajah Sumatera (Elephas maximus sumatranus) di Kawasan Pelestarian Plasma Nutfah (KPPN) Hutan Tanaman Industri Ogan Komering Ilir. Jurnal Penelitian Sains 20 (3): 81-85.

Riba'I, Agus S, Arief D. 2013. Prilaku Makan Gajah (Elephas maximus sumatranus) Di Pusat Konservasi Gajah Taman Nasional Way Kambas . Jurnal Media Konservasi. Vol 18 (hal 89-95). Lampung. Fakultas Pertanian Universitas Lampung.

Samansiri dan D.K. Weerakoon 2007. Pertualangan Ghazu, Gajah Sumatera.WWF Indonesia Jakarta.

Sukumar, R. 2003. The Living Elephanst. Evolutionary Ecology, Behavior, and Conservation. Oxford University Press. UK

Syamsuardi., Sukmantoro, W., Muslino., Nukman., Fadhli, N., Purwoko A, Riyadin., Heri, E., dan Prawoto J. 2010. Prosedur operasional standar untuk Elephant Flying Squad (Pasukan Gajah Reaksi Cepat) dalam mitigasi konflik manusia dan gajah. Pekanbaru (ID): Tim Kerja SOP Flying Squad.

Sarifuddin, H. 2008. Preferensi Hijauan Pakan Gajah Sumatera (Elephas maximus sumatranus): Studi Kasus di Kawasan Seblat. Jurnal Ilmiah Ilmu-Ilmu Peternakan. 9 (4): 83-92.

Tohir, K. R., Mustari, H.A. dan Masyud, B. 2018. Feed Diversity, Palatability and Carrying Capacity of Sumatran Elephant (Elephas maximus sumatranus) Flying Squad in Tesso Nilo National Park. Journal of Natural Resources and Environmental Management 8(3):339-346.

Yudarini, D.N., Widyastuti, K.S. dan Soma, G.I .2013. Tingkah Laku Harian Gajah Sumatera (Elephas maximus sumatranus) di Bali Safari and Marine Park Gianyar, Jurnal Indonesia Medicus Veterinus 2 (4) : 461-468.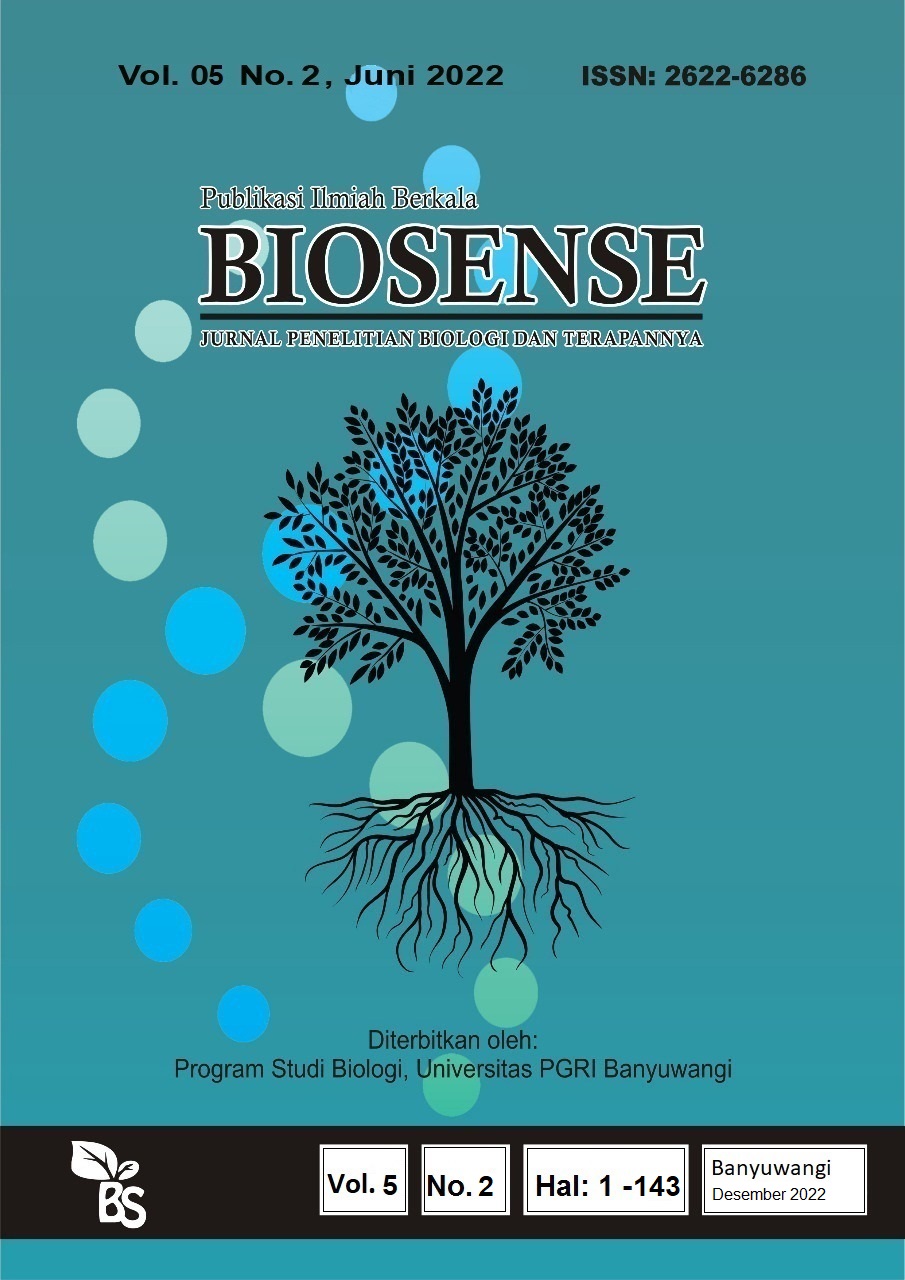 How to Cite
MakmurA., RahmiE., SariS. I., & RidhanaF. (2022). EVALUASI PREFERENSI PAKAN GAJAH SUMATERA (ELEPHAS MAXIMUS SUMATRANUS) DI PUSAT LATIHAN GAJAH HOLIDAY RESORT AEK RASO SUMATERA UTARA: EVALUASI PREFERENSI PAKAN GAJAH SUMATERA (ELEPHAS MAXIMUS SUMATRANUS) DI PUSAT LATIHAN GAJAH HOLIDAY RESORT AEK RASO SUMATERA UTARA. JURNAL BIOSENSE, 5(2), 1-13. https://doi.org/10.36526/biosense.v5i2.2170