KEANEKARAGAMAN DAN KEMELIMPAHAN ODONATA DI KAWASAN HULU ALIRAN SUNGAI KALIBENDO, BANYUWANGI
Magdalena Putri Nugrahani

Program Studi Pendidikan Biologi, Fakultas Keguruan dan Ilmu Pendidikan, Universitas 17 Agustus 1945 Banyuwangi

Rizqi Dwi Firmansyah

Program Studi Pendidikan Biologi, Fakultas Keguruan dan Ilmu Pendidikan, Universitas 17 Agustus 1945 Banyuwangi

Susintowati Susintowati

Program Studi Pendidikan Biologi, Fakultas Keguruan dan Ilmu Pendidikan, Universitas 17 Agustus 1945 Banyuwangi
Keywords:
dragonflies, damselflies, Odonata, diversity, abundance
Abstract
Odonata is an insect that plays an important role in the balance of the ecosystem, acting as predators. Most of Odonata's life is in the water in form of larvae. Odonata occupies some specific habitat types of waters. This study aims to determine the diversity, abundance, and distribution of Odonata (dragonflies and damselflies) in the upstream area of Kalibendo river, Banyuwangi. The research method used is River Tracking method with 4 points of observation which each has a radius of 1,25 km. Based on the result, 13 species of dragonfly are found 7 species dragonfly (Anisoptera) and 6 species of damselflies (Zygoptera). Diversity index (H') of Odonata on the four observation points are low. Relative abundance (KR) species Vestalis luctuosa was the highest (48,522%), while the lowest was Potamarcha congener and Pseudagrion pruinosum (0,053%). The distribution of Odonata in the Kalibendo river basin area, all of which belong to the uniform and clumped category.
References
Ariwibowo. 1991. Kajian Biologik Capung Jarum Agriocnemis pygmea (Rambur) Selys sebagai Musuh Alami Wereng Coklat Nilavarpata lugens Stal. Yogyakarta: Institut Pertanian Yogyakarta.
Aswari, P. 2004. Ekologi Capung Jarum Calopterygidae: Neurobasis chinensis dan Vestalis luctuosa Di Sungai Cikaniki, Taman Nasional Gunung Halimun. Berita Biologi, Volume 7, Nomor 1 & 2.
Krebs, C. J. 2014. Ecology. The Experimental Analisys of Distribution and Abudance. Sixth Edition. USA: Pearson Education Limited.
Clark, T.E., M.J. Samways. 1996. Dragonflies (Odonata) as Indicators of Biotope Quality in The Kruger National Park, South Africa. Journal of Applied Ecology 33: 1001–1012.
Corbet, P.S. 1999. Dragonflies: Behavior and Ecology of Odonata. New York: Comstock Pub Assoc.
Hamilton, C.M. et al., 2013. Current and Future Land Use around a Nationwide Protected Area Network. PLoS ONE, 8(1), e55737.
Hofmann, T.A., C.F. Mason. 2005. Habitat Characteristics and The Distribution of Odonata in a Lowland River Catchment in Eastern England. Hydrobiologia 539: 137–147.
Neldawati. 2011. Jenis-Jenis Capung (Odonata) Di Kawasan Resort Gunung Tujuh Taman Nasional Kerinci Kabupaten Kerinci Provinsi Jambi. Skripsi. Universitas Andalas Padang.
Pamungkas, D. W. & M. Ridwan. (2015). Keragaman jenis capung dan capung jarum (Odonata) di beberapa sumber air di Magetan, Jawa Timur. Jurnal Biodiversity, 1 (6), 1295-1301.
Rahadi W., Feriwibisono B., Nugrahani M.P., Dalia, B.PI., dan Makitan, T. 2013. Naga Terbang Wendit, Keanekaragaman Capung Perairan Wendit, Malang, Jawa Timur. Malang: Indonesia Dragonfly Society.
Schroder, N.M., C.G. Rippel, L.H. Walantus, P.D. Zapata, P. Pessacq. 2020. Odonata assemblages as indicators of stream condition – a test from northern Argentina. North-Western Journal Of Zoology 16(2): 117-124.
Setiyono, J., S. Siniarsih, E.N.R. Oscilata & N.S. Budi. 2017. Dragonflies of Yogyakarta, Jenis Capung Daerah Istimewa Yogyakarta. Indonesia Dragonfly Society, Yogyakarta.
Subramanian, K.A. 2005. Dragonflies and Damselflies of Peninsular India. Bangalore: Project Lifescape.
Susanti. S. 1998. Seri Panduan Lapangan Mengenal Capung. Puslitbang Biologi-LIPI, Bogor.
Utari, E.H. 2018. Komunitas Capung (Odonata) Di Hutan Sokokembang, Pekalongan, Jawa Tengah. Skripsi. Jakarta: Universitas Negeri Islam Syarif Hidayatullah Jakarta.
Wakhid, R. Koneri, T. Tallei, P.V. Maabuat. 2014. Kelimpahan Populasi Capung Jarum (Zygoptera) di Kawasan Taman Nasional Bogani Nani Wartabone, Sulawesi Utara. Jurnal Bioslogos 4 (2): 41-47.
Watanabe, K., I. Kawashima, A. Sasamoto. 2013. Notes on the larva of Neurothemis ramburii ramburii (Kaup in Brauer, 1866) obtained from Iriomote-jima Island, Yaeyama Islands, Southern Ryukyus, Japan (Anisoptera: Libellulidae). TOMBO, Fukui, 55: 83-87.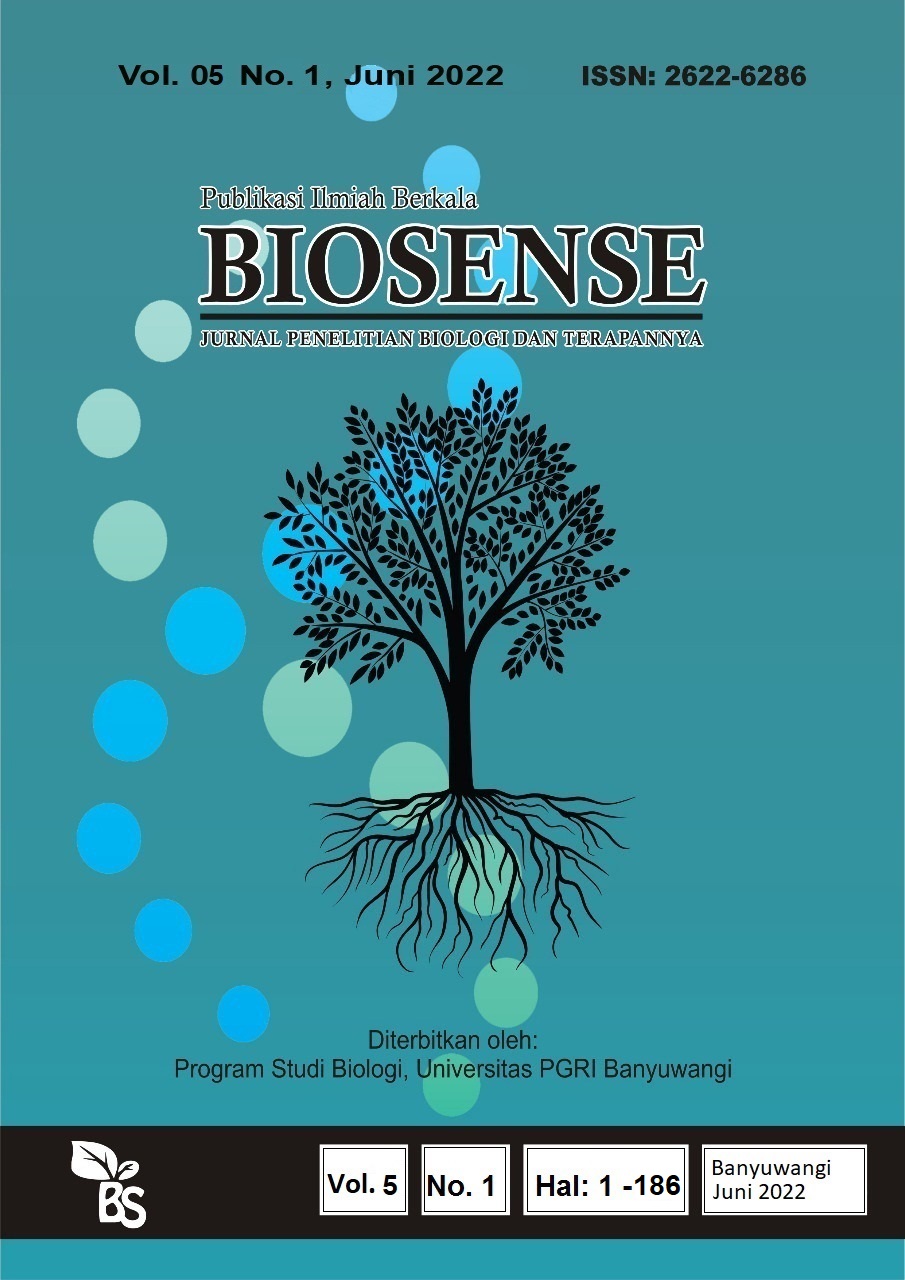 How to Cite
Nugrahani, M. P., Firmansyah, R. D., & Susintowati, S. (2022). KEANEKARAGAMAN DAN KEMELIMPAHAN ODONATA DI KAWASAN HULU ALIRAN SUNGAI KALIBENDO, BANYUWANGI. JURNAL BIOSENSE, 5(01), 175 - 186. https://doi.org/10.36526/biosense.v5i01.2160