Literature Review: Aplikasi Teknologi Integrated Circuit Pada Sport Science
Adi Mulyadi

Prodi Teknik Elektro Universitas PGRI Banyuwangi

Gatut Rubiono

Prodi Teknik Mesin Universitas PGRI Banyuwangi
Abstract
Paper ini membahas tentang review artikel aplikasi teknologi integrated circuit pada sport science. Review artikel menjelaskan penerapan teknologi yang relevan terhadap bidang olahraga. Bidang olahraga meliputi bola voli, bola pelontar, lempar bola, lompat jauh, bola tenis lapang, tenis meja, badminton, sepak bola, futsal, basketball, lari sprint, golf, dan atlet. Berdasarkan review artikel, pemanfaatan teknologi belum diterapkan secara keseluruhan. Teknologi integrated circuit dapat dikombinasikan dengan smart microcontroller device. Smart Sport Equipment diusulkan dengan sistem hybrid sensor pada bidang olahraga dan sistem berbasis platform Internet of Things untuk monitoring atlet. Monitoring dapat dilihat secara real time, dan transmisi portable pada smartphone, tablet, smartwatches, atau laptop.
References
[1] M. N. Alif, E. Sudirjo, and H. Rasydiq, "Karate Scroring System : Aplikasi Skoring Berbasis Android," vol. 17, no. 1, pp. 11–18, 2021.
[2] Giartama, "The effectiveness of microcontroller-based volleyball service test kits," Sport. J. Penilitian Pembelajaran, vol. 6, no. 2, pp. 499–513, 2020.
[3] R. Rui, S. Hugo, F. William, M. Isabel, and F. Juan, "Coach education in volleyball: A study in five countries," J. Phys. Educ. Sport, vol. 14, no. 4, pp. 475–484, 2014.
[4] E. Supriyono, "Pengembangan aplikasi tes keterampilan sepakbola berbasis web Developing web-based soccer skills test application," J. Keolahragaan, vol. 6, no. 1, pp. 38–47, 2018.
[5] T. R. G. V Lantes, "Using Microsensor Technology To Quantify Match Demands In Collagiate Women's Vollyball," J. ofStrength Cond. Res., no. 17, pp. 3266–3278, 2017.
[6] E. Nurani, A. D. Sutomo, and N. Nuryani, "Model Deteksi Netting pada Permainan Bola Voli," Jupiter (Jurnal Pendidik. Tek. Elektro), vol. 3, no. 1, p. 1, 2018.
[7] T. Hidayah et al., "Rancang Bangun Prototipe Bola Pelontar Sebagai Alat Ukur Dinamika Gerak Bola," J. Iptek Olahraga, no. 3, 2015.
[8] Ubaid, "Rancang Bangun Permainan Lempar Bola Berbasis Arduino," 2020.
[9] Zulani, "Rancang Alat Bantu Berteknologi Sensor Untuk Keakuratan Tolakan Pada Cabang Olahraga Lompat Jauh," J. Ilm. Keolahragaan, vol. 4, pp. 102–111, 2020.
[10] I. K. H. Kardiawan, I. M. Satyawan, and K. U. Ariawan, "Pengembangan Perangkat Alat Ukur Kekuatan Servis Bola Tenis Lapangan Berbasis Sensor Digital," Semin. Nas. Ris. Inov. 2018, pp. 183–185, 2018.
[11] Syarifatunnisa, "Pengembangan Teknologi Alat Pelontar Bola Tenis Meja Berbasis Mikrokontroler," vol. 02, no. 02, pp. 51–55, 2017.
[12] Ngadiman, "Pengembangan Alat Bantu Untuk Latihan Footwork Bulutangkis Berbasis Teknologi Mikrokontroler," J. Iptek Olahraga, vol. 13, no. 2, pp. 1–23, 2011.
[13] R. I. Maulana, M. S. Abdurrohman, and A. I. Nurzaman, "Prototipe Alat Pengukur Kecepatan dan Ketepatan Bola pada Tendangan Penalti Menggunakan Arduino," pp. 226–233, 2010.
[14] H. Mandala and E. Rudiawan, "Sistem Deteksi Bola Berdasarkan Warna Bola Dan Background Warna Lapangan Pada Robot Barelang FC," 4th Indones. Symp. Robot Soccer Compet. 2016, vol. 2016, no. snati, pp. 14–20, 2016.
[15] M. F. Masi, "Sistem Garis Gawang Pada Lapangan Futsal," J. Elektro dan Mesin Terap., vol. 1, no. 1, pp. 12–25, 2015.
[16] Suwasono, "Optimasi Akurasi Deteksi Goal Gawang," J. Pendidik., vol. 2, no. 3, pp. 341–349, 2017.
[17] I. Elizabeth, "Rancang-bangun Permainan Dribel Bola Basket ' Basketball Jam ' Menggunakan Kinect," no. June, 2015.
[18] J. Mistar, "Rancang Bangun Sistem Akuisisi Data Kecepatan Sprint Atlet Berbasis Mikrokontroler," J. Hadron, vol. 2, no. 02, pp. 37–41, 2020.
[19] R. Rahmat, A. Rusdiana, A. Supriyatna, U. P. Indonesia, J. Setiabudhi, and N. Bandung, "Pengembangan Alat Ukur Kecepatan Lari Berbasis Microcontroller Dengan Interfacing Personal Computer," J. Terap. Ilmu Keolahragaan, vol. 01, no. 01, pp. 34–39, 2016.
[20] I. Fakhruzzaman, D. Hirawan, J. Dipatiukur, and N. Bandung, "Implementasi Internet of Things Untuk Sport Science," J. Univ. Komput. Indones., 2018.
[21] I. Agustian, "Rancang Bangun Pemantau Detak Jantung dan Suhu Tubuh Portabel Dengan Sistem IoT," J. Amplif. J. Ilm. Bid. Tek. Elektro Dan Komput., vol. 9, no. 2, pp. 14–18, 2019.
[22] K. Lightman, "Silicon Gets Sporty," IEEE Spectr., vol. 53, no. 3, pp. 48–52, 2016.
[23] A. Umek, Y. Zhang, S. Tomažič, and A. Kos, "Suitability of Strain Gage Sensors for Integration Into Smart Sport Equipment: A golf club example," Sensors (Switzerland), vol. 17, no. 4, 2017.
[24] P. P. Ray, "Generic Internet of Things architecture for smart sports," 2015 Int. Conf. Control Instrum. Commun. Comput. Technol. ICCICCT 2015, no. June, pp. 405–410, 2016.
[25] T. M. Barbosa, "Smart sport equipment: Reshaping the sports landscape," Motricidade, vol. 14, no. 2–3, pp. 1–2, 2018.
[26] G. Akhras, "Bus Systems for the Future," Bus Syst. Futur., pp. 25–32, 2002.
[27] K. Lee, Y. E. Gelogo, and S. Lee, "Mobile gateway system for ubiquitous system and internet of things application," Int. J. Smart Home, vol. 8, no. 5, pp. 279–286, 2014.
[28] Y. Wang, H. Wang, J. Xuan, and D. Y. C. Leung, "Biosensors and Bioelectronics Powering future body sensor network systems : A review of power sources," Biosens. Bioelectron., vol. 166, no. July, p. 112410, 2020.
[29] M. R. Yuce, "Recent Wireless Body Sensors : Design and Implementation," 2013 IEEE MTT-S Int. Microw. Work. Ser. RF Wirel. Technol. Biomed. Healthc. Appl. Recent, pp. 2–4, 2013.
[30] J. Santos et al., "An IoT-based Mobile Gateway for Intelligent Personal Assistants on Mobile Health Environments," J. Netw. Comput. Appl., 2016.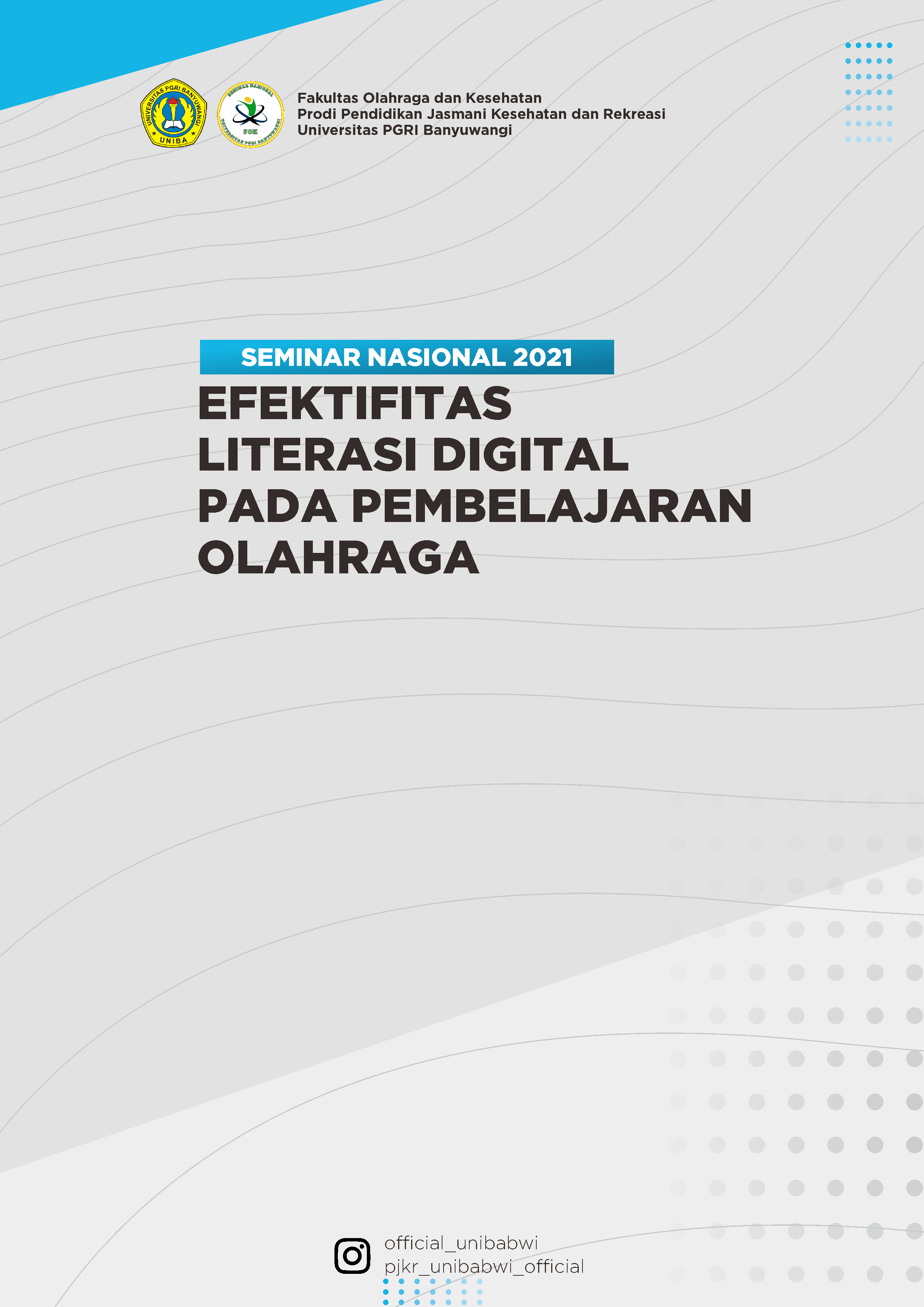 How to Cite
Adi Mulyadi, & Gatut Rubiono. (2021). Literature Review: Aplikasi Teknologi Integrated Circuit Pada Sport Science. Prosiding Seminar Nasional IPTEK Olahraga (SENALOG), 4(1), Ilmu-Or 16. Retrieved from https://ejournal.unibabwi.ac.id/index.php/semnassenalog/article/view/1537