EFFECTS OF RATIONAL EMOTIVE BEHAVIOR THERAPY (REBT) COUNSELING TO MINIMIZE AGGRESSIVE BEHAVIOR OF CLASS XI SCIENCE STUDENTS OF SMA NEGERI 1 SRONO
Keywords:
REBT, Agresif, siswa
Abstract
Agresif adalah perilaku fisik maupun verbal yang diniatkan untuk melukai objek sasaran agresif . Salah satu faktor yang menyebabkan perilaku agresif adalah adanya provokasi dari pihak eksternal baik dalam kelompok ataupun perseorangan. Tujuan penelitian ini adalah menekan perilaku agresif siswa menggunakan konseling Rational Emotive Behaviour Therapy (REBT). Penelitian ini merupakan quasi experimental (eksperimen semu), dengan menggunakan rancangan Non Equialent Pretes-Posttest Control Group Design. Pemilihan subjek menggunakan teknik purposive sampling. Purposive Sampling, dengan populasi 162 siswa kelas XI IPA SMA Negri 1 Srono. Variabel bebas (X) dalam penelitian ini konseling REBT dan Variabel terikat (Y) adalah perilaku agresif. Metode pengambilan data menggunakan kuesioner, observasi dan wawancara. Teknik analisis data menggunakan (1) analisis statistik correlated data/paired sampel t-test dan (2) analisis statistik uncorrelated data/independent sampel t-test. Hasil penelitian akan mendapatkan gambaran efektifitas pengaruh Konseling Rational Emotive Behaviour Therapy terhadap prilaku agresif siswa.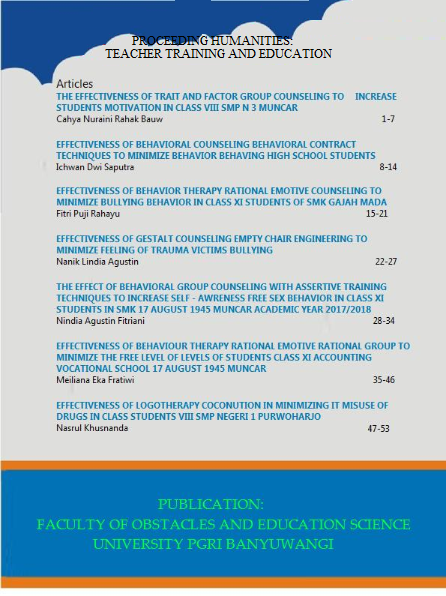 How to Cite
Yulia kusrini. (2018). EFFECTS OF RATIONAL EMOTIVE BEHAVIOR THERAPY (REBT) COUNSELING TO MINIMIZE AGGRESSIVE BEHAVIOR OF CLASS XI SCIENCE STUDENTS OF SMA NEGERI 1 SRONO. Proceeding Humanities: Teacher Training and Education, 1(1), 54-61. Retrieved from https://ejournal.unibabwi.ac.id/index.php/Proceeding_in_Humanities/article/view/738