PENGEMBANGAN LKPD BERBASIS PMRI DALAM KONTEKS PIRING MAKAN IDEAL PADA MATERI PECAHAN
Ainun Mardia

UIN Sulthan Thaha Saifuddin Jambi

Zulkardi

Universitas Sriwijaya

Ratu Ilma Indra Putri

Universitas Sriwijaya

Ely Susanti

Universitas Sriwijaya
Keywords:
LKPD, PMRI, pecahan, piring ideal
Abstract
Tujuan dari penelitian ini adalah menghasilkan produk LKPD yang berbasis PMRI pada materi pecahan yang valid dan praktis. Penelitian ini adalah penelitian design research tipe development studies dengan dua tahapan yaitu preliminary evaluatioan dan formative evaluation alur dari Tessmer yaitu prototyping, self-evaluation, expert review, one-to-one, small group, dan field test. Teknik pengumpulan data yang digunakan adalah walkthorugh, dokumentasi, angket respon peserta didik, dan wawancara. Hasil penelitian berupa LKPD berbasis pendekatan PMRI yang valid berdasarkan komentar dan saran yang diberikan validator dan dinyatakan valid oleh para tim ahli pada tahap expert review dan menghasilkan LKPD berbasis PMRI yang praktis menurut perhitungan angket respon siswa di tahapan one-to-one, smal group, dan field test.
References
Akker, J. Van Den et al. (2006) Educational Design Research. London and New York: Routledge.
Azis (2019) 'Analisis Kesulitan Siswa Dalam Menyelesaikan Soal Cerita Pada Pembelajaran Matematika Kelas VIII', Jurnal Akademik Pendidikan Matematika FKIP Unidayan.
Bennet, A. B., Burton, L. J. and Nelson, L. T. (2010) Mathematics for elementary teachers. New York: McGraw-Hill.
Grafura, L. and Wijayanti, A. (2012) Metode Dan Strategi Pembelajaran Yang Unik. Jakarta: Bumi Aksara.
Haryonik, Y. and Bhakti, Y. B. (2018) 'Pengembangan bahan ajar Lembar Kerja Peserta Didik dengan pendekatan matematika realistik', MaPan: Jurnal Matematika dan Pembelajaran.
Musser, G. L., Burger, W. F. and Peterson, B. E. (no date) Mathematics for elementary school. Hoboken: John Wiley & Son, Inc.
Novak, D. and Renzo, A. D. (no date) Twelve mathematical concepts: a study guide for the ithaca college math placement exam. New York: Ithaca College.Prastowo, A. (2014) Panduan Penyusunan LKPD. Yogyakarta: Diva Press.
Prastowo, A. (2014) Panduan Penyusunan LKPD. Yogyakarta: Diva Press.
Septiani, M. (2019) 'Pengaruh Green Product dan Green advertising Terhadap Keputusan Pembelian pada Produk Lemonilo Di Toko Organic bandung'.
Shoimin, A. (2013) Model Pembelajaran Inovatif dalam Kurikulum 2013. Yogyakarta: Ar-ruz Media.
Tessmer, M. (1993) Merencanakan dan Melakukan Evaluasi Formati. London: Martin Tessmer.
Treffers, A. (1987) Three Dimensions. A model of Goal and Theory Description in Mathematics Instruction – The Wiskobas Project. Dordrecht: Reidel Publishing Company.
Trianto (2011) Designing Innovative-Progressive Learning Models: Concepts, Platforms and Their Implementation in the Education Unit Level Curriculum (KTSP). Jakarta: Kencana.
Yuniarti, A. and Radia, E. H. (2021) 'Development of Comic Mathematics Teaching Materials on Flat-Building Material to Increase Reading Interest in Class IV Elementary School Students', Journal of Education Technology, 4(4), p. 415. doi: 10.23887/jet.v4i4.30034.
Zulkardi and Prahmana, R. C. I. (2021) 'The journey of journal on mathematics education: From local to global', Journal on Mathematics Education, 12(3), pp. 389–410. doi: 10.22342/JME.12.3.15001.389-410.
Zulkardi and Putri, R. I. I. (2010) 'Pengembangan blog support untuk membantu siswa dan guru matematika Indonesia belajar pendidikan matematika realistic Indonesia (PMRI)', Jurnal inovasi perekayasa pendidikan (JIPP), 2(1), pp. 1–24.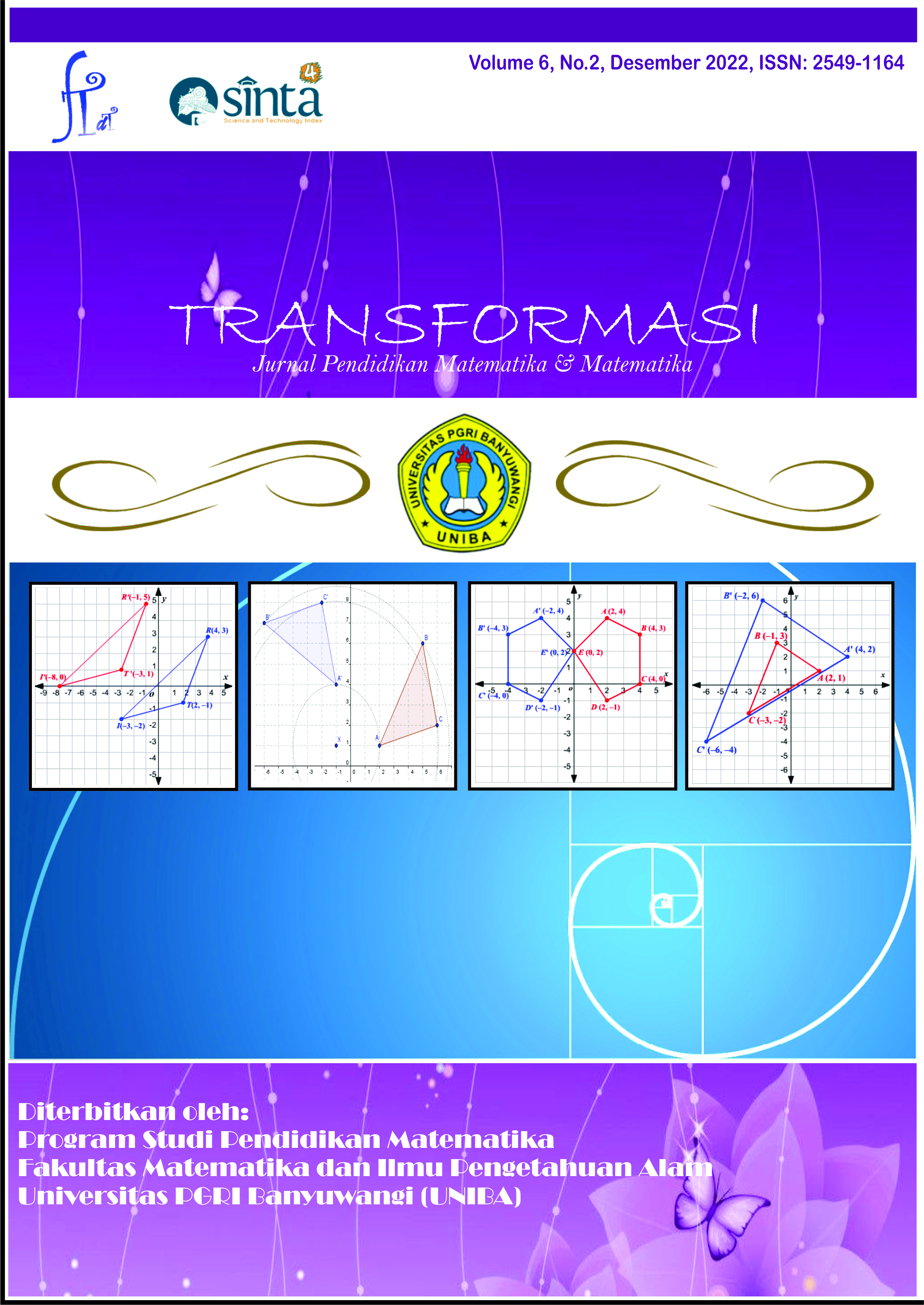 How to Cite
MardiaA., Zulkardi, PutriR. I. I., & Ely Susanti. (2023). PENGEMBANGAN LKPD BERBASIS PMRI DALAM KONTEKS PIRING MAKAN IDEAL PADA MATERI PECAHAN . Transformasi : Jurnal Pendidikan Matematika Dan Matematika, 6(2), 155-165. https://doi.org/10.36526/tr.v6i2.2365