ANALISIS DINAMIKA MODEL EPIDEMI SEIQR-SI PENYEBARAN WORM BEBASIS WI-FI PADA SMARTPHONE
Regina Mohamad

Jurusan Matematika, Fakultas Matematika dan Ilmu Pengetahuan Alam, Universitas Negeri Gorontalo

Lailany Yahya

Jurusan Matematika, Fakultas Matematika dan Ilmu Pengetahuan Alam, Universitas Negeri Gorontalo

Resmawan Resmawan

Jurusan Matematika, Fakultas Matematika dan Ilmu Pengetahuan Alam, Universitas Negeri Gorontalo

Agusyarif Rezka Nuha

Universitas Negeri Gorontalo
Keywords:
Worm, Wi-Fi, Model SEIQR-SI, Titik Kesetimbangan, Smartphone
Abstract
Artikel ini membahas model matematika SEIQR-SI penyebaran worm berbasis Wi-Fi pada smartphone. Worm berbasis Wi-Fi termasuk perangkat lunak yang mampu mereplikasi dirinya untuk mencoba memecahkan kata sandi setiap router Wi-Fi baru yang ditemuinya tanpa bantuan manusia. Analisis model dilakukan dengan menentukan titik kesetimbangan beserta kestabilannya. Hasil analisis menunjukkan bahwa model SEIQR-SI memiliki dua titik kesetimbangan yaitu titik kesetimbangan bebas worm dan titik kesetimbangan endemik. Titik setimbang bebas worm stabil asimtotik lokal jika , sedangkan titik setimbang endemik stabil asimtotik lokal jika . Pada bagian akhir diberikan simulasi secara numerik yang menunjukkan peningkatan laju karantina oleh Wi-Fi base station pada worm dapat menekan jumlah node smartphone dan Wi-Fi yang terinfeksi worm.
References
Anton, H., & Rorres, C. (2014). Elementary Linear Algebra. New York: Wiley Blckwell.
Cahyono, E. (2013). Pemodelan Matematika (Edisi 1). Yogyakarta: Graha Ilmu.
Elyashar, A., Uziel, S., Paradise, A., & Puzis, R. (2020). The Chameleon Attack: Manipulating Content Display in Online Social Media. Proceedings of The Web Conference, 848–859.
Hu, R., Gao, Q., & Wang, B. (2021). Dynamics and Control of Worm Epidemic Based on Mobile Networks by SEIQR-Type Model with Saturated Incidence Rate. Discrete Dynamics in Nature and Society, 2021, 1–22. https://doi.org/10.1155/2021/6637263
Milliken, J., Selis, V., & Marshall, A. (2013). Detection and analysis of the Chameleon WiFi access point virus. EURASIP Journal on Information Security, 2013(1), 2. https://doi.org/10.1186/1687-417X-2013-2
Mishra, B. K., & Ansari, G. M. (2012). Differential epidemic model of virus and worms in computer network. International Journal of Network Security, 14(3), 149–155.
Mishra, B. K., & Pandey, S. K. (2014). Dynamic model of worm propagation in computer network. Applied Mathematical Modelling, 38(7–8), 2173–2179. https://doi.org/10.1016/j.apm.2013.10.046
Piqueira, J. R. C., & Araujo, V. O. (2009). A modified epidemiological model for computer viruses. Applied Mathematics and Computation, 213(2), 355–360. https://doi.org/10.1016/j.amc.2009.03.023
Ren, J., Yang, X., Yang, L.-X., Xu, Y., & Yang, F. (2012a). A delayed computer virus propagation model and its dynamics. Chaos, Solitons & Fractals, 45(1), 74–79. https://doi.org/10.1016/j.chaos.2011.10.003
Ren, J., Yang, X., Zhu, Q., Yang, L.-X., & Zhang, C. (2012b). A novel computer virus model and its dynamics. Nonlinear Analysis: Real World Applications, 13(1), 376–384. https://doi.org/10.1016/j.nonrwa.2011.07.048
Resmawan, R., & Nurwan, N. (2017). Konstruksi Bilangan Reproduksi Dasar pada Model Epidemik SEIRS-SEI Penyebaran Malaria dengan Vaksinasi dan Pengobatan. Jurnal Matematika Integratif, 13(2), 105–114. https://doi.org/10.24198/jmi.v13.n2.12332.105-114
Scharr, J. (2014). New WiFi Worm can Spread Like an Airbone Disease. Retrieved from https://www.yahoo.com/tech/new-wifi-worm-can-spread-like-an-airbone-disease-78496514830.html
Utoyo, M. I., Nurafifah, E. A., & Miswanto, M. (2018). Analisis Model Matematika Orde Fraksional Penyebaran Worm Berbasis Wi-Fi Pada Smartphone. Limits: Journal of Mathematics and Its Applications, 15(2), 97–112. https://doi.org/10.12962/limits.v15i2.4304
van den Driessche, P., & Watmough, J. (2002). Reproduction numbers and sub-threshold endemic equilibria for compartmental models of disease transmission. Mathematical Biosciences, 180(1–2), 29–48. https://doi.org/10.1016/S0025-5564(02)00108-6
Xiao, X., Fu, P., Dou, C., Li, Q., Hu, G., & Xia, S. (2017). Design and analysis of SEIQR worm propagation model in mobile internet. Communications in Nonlinear Science and Numerical Simulation, 43, 341–350. https://doi.org/10.1016/j.cnsns.2016.07.012
Yuan, H., & Chen, G. (2008). Network virus-epidemic model with the point-to-group information propagation. Applied Mathematics and Computation, 206(1), 357–367. https://doi.org/10.1016/j.amc.2008.09.025
Zhu, Q., Yang, X., Yang, L.-X., & Zhang, C. (2012). Optimal control of computer virus under a delayed model. Applied Mathematics and Computation, 218(23), 11613–11619. https://doi.org/10.1016/j.amc.2012.04.092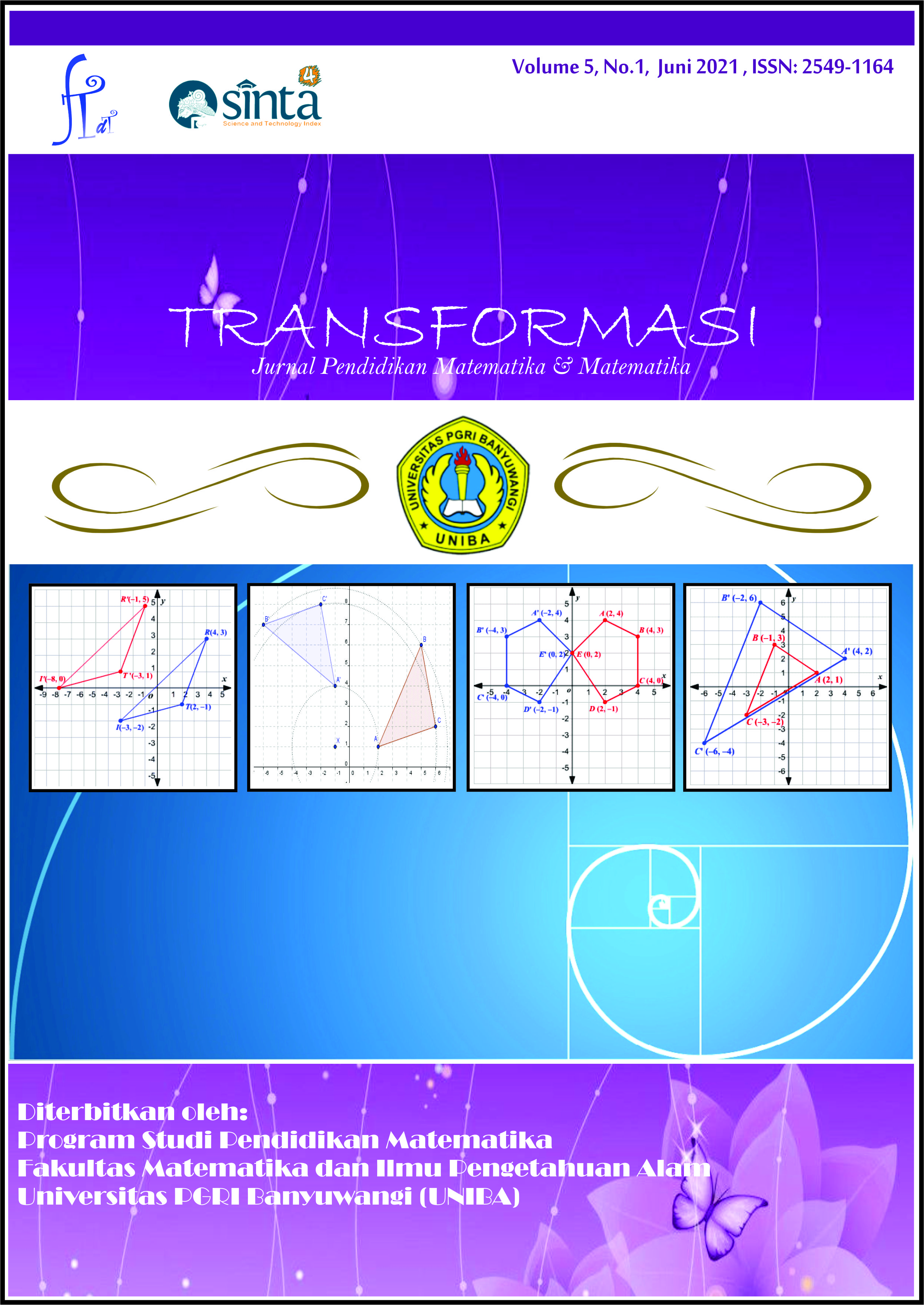 How to Cite
Mohamad, R., Yahya, L., Resmawan, R., & Nuha, A. R. (2021). ANALISIS DINAMIKA MODEL EPIDEMI SEIQR-SI PENYEBARAN WORM BEBASIS WI-FI PADA SMARTPHONE. Transformasi : Jurnal Pendidikan Matematika Dan Matematika, 5(1), 497-509. https://doi.org/10.36526/tr.v5i1.1179