KECEMASAN SISWA TERHADAP MATEMATIKA PADA PEMBELAJARAN ONLINE DI MASA PANDEMI COVID-19 DITINJAU DARI TINGKATAN SEKOLAH DAN GENDER
Luthfiyah

Universitas Muhammadiyah Prof. DR. HAMKA

Windia Hadi

Universitas Muhammadiyah Prof. Dr. HAMKA
Keywords:
Covid-19, Kecemasan Belajar, Matematika, Pembelajaran Online
Abstract
Kecemasan matematika merupakan kondisi mental siswa dalam kegiatan proses belajar matematika. Studi ini menganalisis kecemasan siswa terhadap matematika dalam pembelajaran online di masa pandemi covid-19. Penelitian ini menggunakan metode survei dengan 15 pernyataan kuesioner. Sampel penelitian adalah 323 siswa terdiri dari 153 siswa SMP dan 170 siswa SMA yang merupakan perwakilan siswa di Indonesia. Analisis data yang digunakan adalah menggunakan Winsteps. Hasil analisis penelitian ini menunjukkan bahwa kecemasan siswa belajar matematika dalam pembelajaran online terbagi menjadi kecemasan tinggi, kecemasan sedang, dan  kecemasan rendah. Siswa SMP memiliki tingkat kecemasan belajar tinggi sebesar 3,92% dan Siswa SMA memiliki tingkat kecemasan belajar tinggi sebesar 1,17%. Hal ini menunjukkan bahwa kecemasan belajar matematika lebih banyak dialami oleh siswa SMP daripada siswa SMA, khususnya pada Kelas 7 dan 8. Sedangkan berdasarkan gender, siswa Laki-laki memiliki kecemasan tinggi sebesar 4%, dan siswa perempuan 1,8%. Siswa yang memiliki kecemasan tinggi lebih cenderung tidak menyukai matematika dan menganggap matematika pelajaran yang sulit.
References
Adnan, M. (2020). Online learning amid the COVID-19 pandemic: Students perspectives. Journal of Pedagogical Research, 1(2), 45–51. https://doi.org/10.33902/jpsp.2020261309.
Assareh, A., & Bidokht, M. H. (2011). Barriers to E-teaching and E-learning. Procedia Computer Science, 3, 791–795. https://doi.org/10.1016/j.procs.2010.12.129.
Aydın, D., & Aytekin, C. (2019). Controlling mathematics anxiety by the views of guidance and psychological counseling candidates. European Journal of Educational Research, 8(2), 421–431. https://doi.org/10.12973/eu-jer.8.2.421.
Azis, Y. M., Suharyati, H., & Susanti, S. (2019). Student ' S Experience of E -Learning , Learning Process and. 03(02), 67–70.
Cheema, J. R., & Sheridan, K. (2015). Time spent on homework, mathematics anxiety and mathematics achievement: Evidence from a US sample. Issues in Educational Research, 25(3), 246–259. http://search.ebscohost.com/login.aspx?direct=true&db=eft&AN=109114385&site=ehost-live.
Curran, V., Gustafson, D. L., Simmons, K., Lannon, H., Wang, C., Garmsiri, M., Fleet, L., & Wetsch, L. (2019). Adult learners' perceptions of self-directed learning and digital technology usage in continuing professional education: An update for the digital age. Journal of Adult and Continuing Education, 25(1), 74–93. https://doi.org/10.1177/1477971419827318.
Damary, R., Markova, T., & Pryadilina, N. (2017). Key Challenges of On-line Education in Multi-cultural Context. Procedia - Social and Behavioral Sciences, 237(June 2016), 83–89. https://doi.org/10.1016/j.sbspro.2017.02.034.
Dowker, A., Sarkar, A., & Looi, C. Y. (2016). Mathematics anxiety: What have we learned in 60 years? Frontiers in Psychology, 7(APR). https://doi.org/10.3389/fpsyg.2016.00508.
Hill, F., Mammarella, I. C., Devine, A., Caviola, S., Passolunghi, M. C., & Szucs, D. (2016). Maths anxiety in primary and secondary school students: Gender differences, developmental changes and anxiety specificity. Learning and Individual Differences, 48, 45–53. https://doi.org/10.1016/j.lindif.2016.02.006.
Himmi, N., & Azni, A. (2017). Hubungan Kesiapan Belajar Dan Kecemasan Matematika Terhadap Hasil Belajar Matematika Siswa SMP. PYTHAGORAS: Jurnal Program Studi Pendidikan Matematika, 6(1), 22–30. https://doi.org/10.33373/pythagoras.v6i1.619.
Imro'ah, S., Winarso, W., & Baskoro, E. P. (2019). Analisis Gender Terhadap Kecemasan Matematika Dan Self Efficacy Siswa. KALAMATIKA Jurnal Pendidikan Matematika, 4(1), 23–36. https://doi.org/10.22236/kalamatika.vol4no1.2019pp23-36.
Tiara, K. (2016). Technomedia Journal (TMJ). Penerapan Rinfosheet Sebagai Media Penunjang Pembuatan Laporan Untuk Mahasiswa, 53(9), 1689–1699. https://doi.org/10.1017/CBO9781107415324.004.
Mailizar, Almanthari, A., Maulina, S., & Bruce, S. (2020). Secondary school mathematics teachers' views on e-learning implementation barriers during the COVID-19 pandemic: The case of Indonesia. Eurasia Journal of Mathematics, Science and Technology Education, 16(7). https://doi.org/10.29333/EJMSTE/8240.
Markova, T., Glazkova, I., & Zaborova, E. (2017). Quality Issues of Online Distance Learning. Procedia - Social and Behavioral Sciences, 237(June 2016), 685–691. https://doi.org/10.1016/j.sbspro.2017.02.043.
Moss, D. (2002). Psychological perspectives: Anxiety disorders: Identification and intervention. Psychological Perspectives: Anxiety Disorders: Identification and Intervention., January. https://www.researchgate.net/publication/259560188_Psychological_perspectives_Anxiety_disorders_Identification_and_intervention.
Mutlu, Y. (2019). Math anxiety in students with and without math learning difficulties. International Electronic Journal of Elementary Education, 11(5), 471–475. https://doi.org/10.26822/iejee.2019553343.
Ölmez, İ. B., & Ölmez, S. B. (2019). Validation of the Math Anxiety Scale with the Rasch Measurement Model. Mathematics Education Research Journal, 31(1), 89–106. https://doi.org/10.1007/s13394-018-0244-8.
Rahayu, U., Darmayanti, T., Widodo, A., & Redjeki, S. (2017). The development of CERDAS learning strategy guide for science education students of distance education. Journal of Physics: Conference Series, 812. https://doi.org/10.1088/1742-6596/755/1/011001.
Sumintono, B. & Widhiarso, W. (2014). Aplikasi Rasch Model (B. Trim (ed.); Edisi Revisi).
Supriatna, A., & Zulkarnaen, R. (2019). Studi Kasus Tingkat Kecemasan Matematis Siswa SMA. Prosiding Seminar Nasional Matematika Dam Pendidikan Matematika, 730–735.
Ulfiani, R., Nursalam, N., & M. Ridwan, T. (2015). Pengaruh kecemasan dan kesulitan belajar matematika terhadap hasil belajar matematika pada siswa kelas x ma negeri 1 watampone kabupaten bone. MaPan: Jurnal Matematika Dan Pembelajaran, 3(1), 86–102. http://journal.uin-alauddin.ac.id/index.php/Mapan/article/view/2752.
Wahyudy, H. E. putri. (2019). Penerapan Pendekatan Concrete-Pictorial-Abstract (CPA) dalam Menurunkan Kecemasan Matematis Siswa Sekolah. Simposium Nasional Ilmiah & Call for Paper Unindra (Simponi)., 11(November), 228–238. https://doi.org/10.30998/simponi.v0i0.428.
Wantika, W., & Nasution, S. P. (2019). Analisis Kesulitan Belajar dalam Memahami Kecemasan Peserta Didik pada Pembelajaran Matematika. Desimal: Jurnal Matematika, 2(1), 49–57. https://doi.org/10.24042/djm.v2i1.2027.
Willse, J. T. (2017). Polytomous rasch models in counseling assessment. Measurement and Evaluation in Counseling and Development, 50(4), 248–255. https://doi.org/10.1080/07481756.2017.1362656.
Zaharah, Kirilova, Galia Ildusocna, & Windarti, A. (2020). Dampak Wabah Virus Corona Terhadap Kegiatan Belajar Mengajar di Indonesia. Salam: Jurnal Sosial Dan Budaya Syar'i, 7(3), 269–282. https://doi.org/10.15408 / sjsbs.v7i3.15104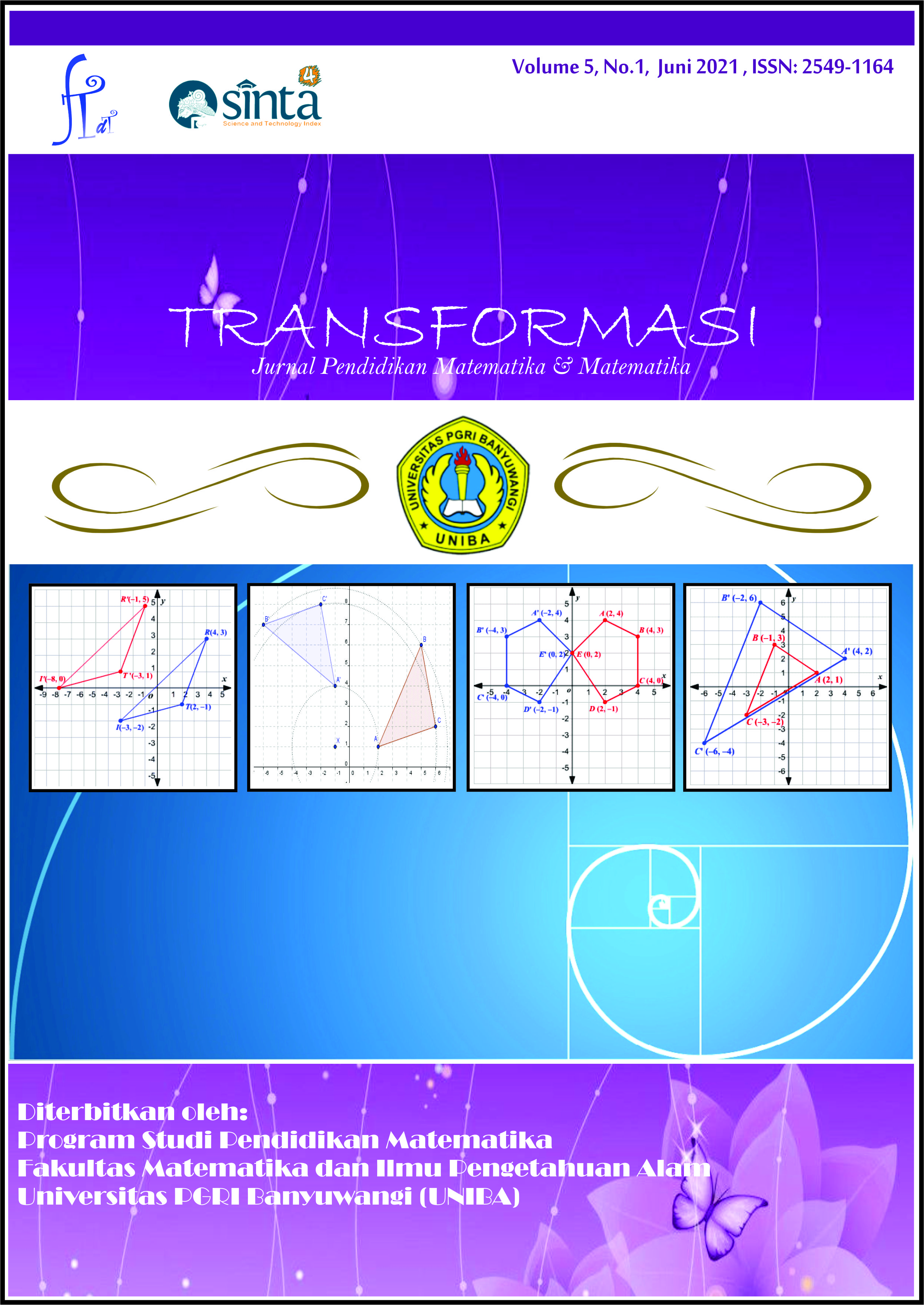 How to Cite
Luthfiyah, & Hadi, W. (2021). KECEMASAN SISWA TERHADAP MATEMATIKA PADA PEMBELAJARAN ONLINE DI MASA PANDEMI COVID-19 DITINJAU DARI TINGKATAN SEKOLAH DAN GENDER . Transformasi : Jurnal Pendidikan Matematika Dan Matematika, 5(1), 427-440. https://doi.org/10.36526/tr.v5i1.1149